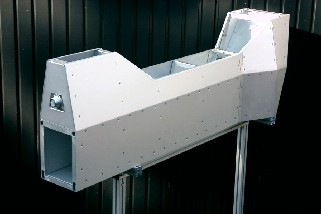 Ferron bv has now produced the centre part of a full 3-D construction.
Combining our 20N panel system (aluminium/Nomex® sandwich panels) with laser-cut and CNC formed aluminium sheets, a lightweight construction has been made, with ample space for internal equipment.
The Ferron philosophy: "more design work means less production work", is proven in this construction. Furthermore, through a clever choice of production techniques, an interface accuracy of +/- 0.5 mm is obtained.
For more information, contact us at info@silvermine.nl