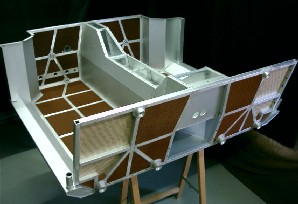 By connecting more sandwich panels to the centre part, a full 3-D construction is being produced by Ferron bv.
An effective system to connect these aluminium/Nomex® sandwich panels yields a construction with high stiffness and low Weight.
Integrated connectors for dismountable sub-structures feed the resulting point loads into the Ferron 20N panels (see picture).
For more information, contact us at info@silvermine.nl