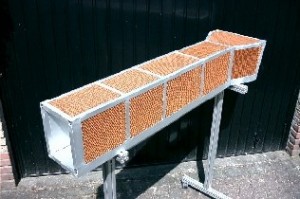 Based on the aluminium/Nomex® sandwich panels developed in-house, Ferron bv is currently producing a full 3-D construction.
This construction, using the Ferron 20N panel system, integrates inter-connected panelling with dismountable connectors to interface with sub-assemblies at both sides.
By means of a clever system of welding, combined with laser-cut sheets, these constructions can be assembled without extra labour, making them very cost-effective.
For more information, contact us at info@silvermine.nl