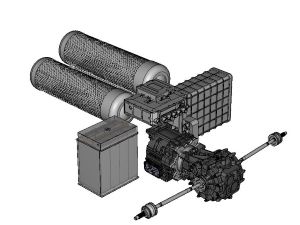 The concept of a Hydrogen-electric powertrain for the Silvermine 11SR was evaluated.
Extensive calculations showed the practicality of this concept, based on available components. Thereafter a study in 3D-CAD was done, to check packaging and weight distribution effects.
The package consists of:
Three 700 bar Hydrogen tanks
One 125 kW Hydrogen-Oxygen fuel cell, with control unit
One 1.7 kWh battery buffer pack, with battery management system
One 260 kW inverter, with connections to fuel cell and battery pack
One 240 kW high-torque electric drive motor
One final drive/differential unit
The selected system will be suitable to deliver sufficient power and endurance for competitive racing at track days, while fitting within the dimensional and weight limits of the existing Silvermine car (Type 11SR).
Except for a redesign of the rear subframe and the cooling circuits, not much needs to be adapted to the existing package. Externally the track day car will remain identical to the type 11SR that uses a supercharged petrol-fuelled engine.
The Hydrogen-electric version has been given the tentative designation of Type 12H.
For more information, contact us at info@silvermine.nl