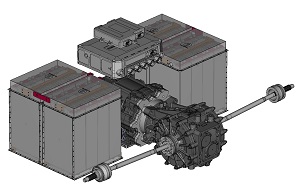 The drive package for the Battery Electric version of the Silvermine 11SR has been defined.
The package consists of the battery packs, drive motor, final drive/differential unit, inverter, and the battery management system.
Each of the four battery packs consists of four battery modules in a liquid-tight and fireproof enclosure, with standardised electric connections, cooling water in/outlets and mechanical support constructions.
The inverter and battery thermal management system will be controlled by a separate Vehicle Control Unit, with interfaces to the driver and sub-systems.
Next up is the engineering of the support constructions in the rear subframe and the cooling circuits.
The pre-design has been given the tentative designation of Type 12E.
For more information, contact us at info@silvermine.nl