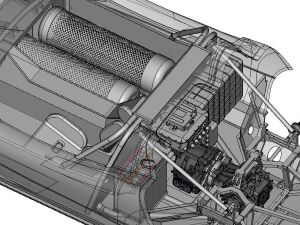 We are currently putting together a Hydrogen-fuelled powertrain for the Silvermine 11SR track day racecar. For details, please check our latest "Progress" item on www.silvermine.nl.
We are ready for discussions with suppliers of Hydrogen-electric components who are interested in contributing to the construction of the car.
The relevant components for this call will be:
Hydrogen tanks
Hydrogen-Oxygen fuel cell and control unit
Li-ion battery buffer pack and battery management system
Inverter and electric motor
The car will be based on our existing design, for which a complete set of production documents is available.
We will contribute design/calculation input into the Hydrogen-electric powertrain project, as well as all construction and development activities.
If you are interested, please contact us at info@silvermine.nl