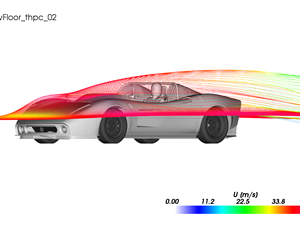 German specialist company MantiumCAE (http://mantiumcae.com) performed sophisticated Computational Fluid Dynamics (CFD) simulations of transient air flow in interaction with the CAD-model of the 11SR.
The results (pressure distribution and air velocity around/through the body) were made available, including unsteady flow patterns in the driver/passenger area.
The results yielded more insight in the car's aerodynamic properties, and ways to fine-tune the car for optimum behaviour.
For more information, contact us at info@silvermine.nl