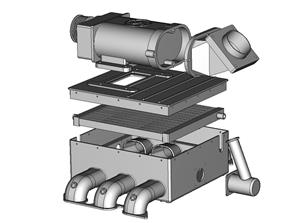 A Lysholm twin-screw supercharger was selected to increase the power of the Silvermine 11SR engine to meet the design value.
This supercharger raises boost pressure internally, keeping the temperature rise of the charge air at a reasonable level.
For extra efficiency, a water-to-air intercooler will be included in te package.
First modelling iterations of the plenum box, intercooler, inlet stacks and recirculation valve lay-out were made; air flow calculations and a structural analysis of the model will be performed before finalizing the design.
For more information, contact us at info@silvermine.nl