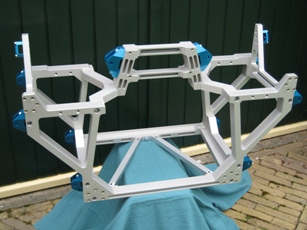 The rear sub-frame assembly has been mounted on the central structure by means of high-strength aluminium tubes, and mounting brackets for the wishbones and spring/damper units have been fitted. The sub-frame integrates CNC-machined aluminium front and rear webs with aluminium/Nomex® sandwich panels in the bottom.
The complete sub-frame can be quickly dismounted from the central structure, by unscrewing the anchor point bolts.
Two racing type fuel cells have been fitted inside aluminium containers, and are equipped with built-in fuel pump and combined filling and de-aeration lines.
For more information, contact us at info@silvermine.nl