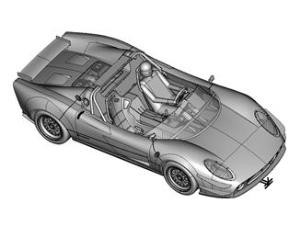 Silvermine offers a research opportunity for one or more students in aerodynamics or applied physics.
The research project's goal is to establish the aerodynamic values of the Silvermine 11SR, according to the present design.
Coefficients of drag, lift or downforce front/rear are to be calculated using the CFD programmes available at the students' University or Technical High School.
Variation of coefficients as a function of ride height, body rake, presence and angle adjustment of wing and dive planes can be studied.
Optimum settings can be proposed as a result of the research.
Internal flow and turbulence phenomena inside wheel wells can also be part of the research.
Silvermine will make all 3-D files of chassis and body available for this research project, including internal ducts, etc.
The research may be part of a technical qualification commission by the student's University or Technical High School.
If you are interested in this opportunity, please contact us at info@silvermine.nl.