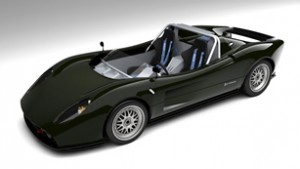 Production of body panels and clear parts for the Silvermine 11SR has been commissioned to specialist company Aviate Products. In this project, Aviate will be supported by Bailey Sports Racing Cars.
Aviate Products, located near Johannesburg, South Africa, specializes in production of composite products for the light airplane industry in South Africa, carrying out 3-D tool path generation programming, 3-axis milling of plugs and moulds with large dimensions, and production of composite parts by means of resin vacuum infusion.
Bailey Sports Racing Cars, located in the same area as Aviate, concentrates on in-house production of high-quality and reliable replica or recreations of famous Le Mans winning cars, producing composite parts from pre-pregs including post-curing in a bespoke oven.
All body panel files have been extensively evaluated for production details, and will be used to generate 100% true parts. Body panels will be produced from multiple moulds and/or moulds with inserts, where necessary.
All parts are scheduled to be ready for further preparation, painting and installation by Silvermine before the end of 2015.