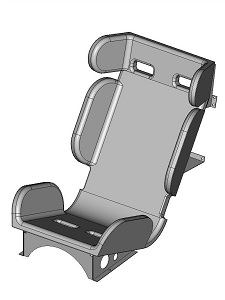 A new race seat design was made, to improve driver position and comfort, making full use of the available space inside the safety cell.
The design will fit persons with larger stature, while still keeping the driver's head properly inside the roll-over limits.
The seat will be produced by Silvermine, and will be adjusted to the driver's dimensions and preferred seating position.
A scale model of the newly designed seat was made, to check appearance and details of the six-point harness.
For more information, contact us at info@silvermine.nl