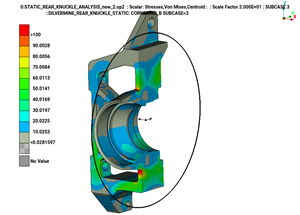 Front and rear wheel uprights were newly designed for the Silvermine type 11SR.
A detailed stress and deformation analysis of the new uprights was performed by Italian specialist company Phitec Ingegneria (https://www.phitecingegneria.it).
This was done by means of Finite Element Analysis (FEA).
Material stresses (also internal) and deformations were presented for various load cases of each upright: bump, braking and cornering.
Recommendations for improvement of design and neutralizing of stress concentrations were indicated by the FEA company, and implemented in the final design.
(Pictures shown are of the first design iteration, and were kindly provided by MantiumCAE)
For more information, contact us at info@silvermine.nl